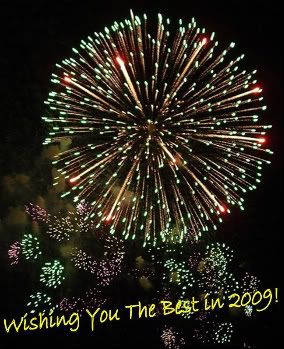 I hope that everyone had a great Christmas! Mine was good.. I enjoyed seeing the kids so happy with all of their gifts from Santa!
I'm looking forward to the new year. I'm hoping that 2009 is going to be a good year for us. We have some changes coming up in 2009. I'm hoping to start working in some sort of animal shelter and/or vet's office in the Spring.. it may just be volunteering for experience at first.. but it is the second stepping stone to a good career for myself! The first step being starting school!
In the fall my oldest will start Kindergarten.. and it all begins: homework, girls. teachers, blah! They are in preschool now but preschool is pretty laid back. Thankfully my son is not interested in girls that way yet. I was a bit worried when I remembered that my first crush and first "kiss" was when I was in preschool! I still remember his name.. it was Joey.. but I was too shy to even talk to him, haha! But Joey wasn't the one I kissed.. that was Jason! LOL.. but anyway, I'm off track now!
It's just hard for me to believe that my baby is 5 already and my twins are 4! What happened to these 5 years?? I know these past 5 years have definitely been stressful. There have been a lot of ups and down throughout them. A lot of heartache and a lot of learning experiences. I know that I have grown a lot over the past 5 years.
Oh and we also have a trip planned for next year. We hardly ever go on trips and this will be a road trip which I LOVE! My sister in law moved to Virginia a few years ago. My husband has been there to visit but I have not. I'm constantly being reminded of how beautiful it is down there.. so we are going to plan on going down there in the Spring sometime! yay!
Speaking of my husband.. still not sure where we are headed. We are in marriage counseling now.. it has helped ME a bit.. but my husband really isn't putting much effort into it. Guess he thinks that physically going to counseling is enough?
But anyway, I do hope everyone has a safe New Year's Eve.. and I'm wishing everyone a positive happy new year in 2009!