I decided to join in the fun
for
Pour Your Heart Out
(click on the button), because I really am not a bitch 24 hours a day, and there really is a heart buried deep down in there and I like to let it out once in awhile!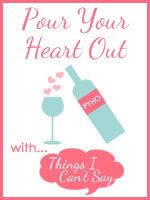 I'm going to pour my heart out about my husband. We just celebrated our 7th wedding anniversary a few weeks ago. Seven years sometimes seems like 20 years. We have been through so much together. We have separated twice; the first time was the lowest point of my life, ever. I was a wreck. I couldn't eat, couldn't sleep, all I did was cry (but I lost 25 lbs!). We were separated for 9 whole months; that sounds like such a long time. We got back together for about a year, and then the same thing repeated itself except the second time I handled it very well, and we ended up only staying apart for about 3 months. We just can't seem to really stay apart from one another, we always come back.
My husband has been my rock throughout most of the past 8 years (been together for 8). He stayed with me both times in the hospital while I had our babies, he took care of me when I couldn't take care of myself. He wouldn't leave my side. I have been such a bitch to him at times. I blame myself a lot for our two separations. My head was so fucked up and I always took it out on him. I was paranoid about everything he did. I would blame him for things all of the time or just be a plain bitch to him. Once I realized how many problems I was causing, I got on medication which has helped a lot. Don't get me wrong, I still have my bad days, especially every 28 days, lol. I can some times be a real bitch and complain about the tiniest of things. Once I realize that I'm doing it, I get scared that I'm going to chase him away again.
My husband busts his ass working to take care of our family. He is a great dad. He helps me around the house (most of the time). He helps with the kids. He loves me for ME. He thinks I'm beautiful. He gets angry when I say anything bad about myself, like calling myself fat. He doesn't go out with his friends all of the time like some husbands do. He does everything he can for our family and I know how much he loves me. I just wish I didn't take that for granted some times. I don't want him to question my love for him. I know how lucky I am to have such a wonderful husband as him.