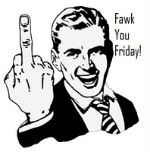 Fawk you mother nature!
You have gone a little too far with this cold and snow crap this year! What did we do to piss you off? Bring me spring, NOW!
Fawk you cramps!
For being so painful and making me not want to do anything but rip someone's damned head off!
Fawk gas prices!
Are you seriously up to almost $3.50 a gallon? Stop fucking people up the asses with this shit! We can't live like this and we all need gas so that we can go to work, school..etc.. are you going to make us steal it??
Fawk you germs!
You have made all 3 of my kids sick and made me take my oldest to the doctor. What makes you so special that you can just come in and take over our lives like that? Get Out!!
That Is All.